Lash tint
A great way to darken your lashes, so you can leave the mascara at home.
Brow tint
A simple way to bring more attention to your eyes, great for those who like to darken their brows with makeup.
Lash & brow tint combo
Why not get them both done at the same time.
Make-up application
Whether it's a night out on the town, a romantic
day in a dress, or you just want some helpful tips
on what colors are right for you, call me for a consultation.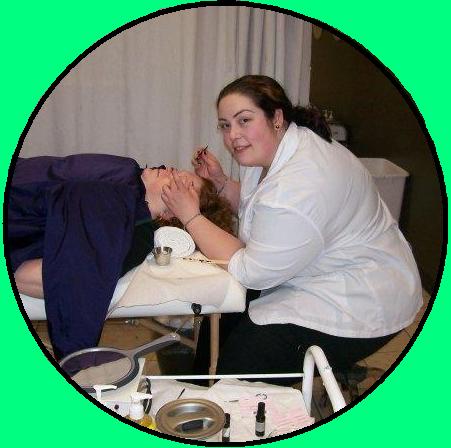 If you've never had a tint before, a "patch test" is required a few days prior, even though it is a vegetable based dye, some clients with more sensitive skin may have a reaction.

FACIALS
(Client consultation included)

Basic facial (1 HOUR)
First, a cleansing, then discover what skin type
you have with a skin analysis, followed by a
custom steamed exfoliation (with or without extractions). The skin is then toned, followed
by a relaxing massage that will ease away all
your stresses from arms to shoulders to neck
and face, it just might put you to sleep. Enjoy
an application of a facial masque while you
receive a scalp massage followed by the
finishing touches of a moisturizer application.
Specialized facial (1.5 HOUR)
All the perks of a basic facial but with an
added specialized facial masque that is
best suited for your skin type. Whether you
want to calm redness, or sooth dry skin, or
tighten up those laugh lines.
Back facial (1 HOUR)
Just like a basic facial, but perfect for someone
who may have problematic skin on their back,
or for someone who wants to try something
new and relaxing.
Paraffin facial (1.25 Hours)
All the spoils of a basic facial with an added touch of warmth. Great for clients who are in need of some extra moisturizing and a little brightening.
Paraffin back facial (1.5 hours)
Perfect for melting away those winter blues.
Come relax in your very own private room with luxurious spa sounds, while the aroma of diffusing essential oils calm your senses.

With the use of botanical based professional skin care products, each facial is designed and customized specially for you, to cleanse, repair and improve your skin.
I'm here to answer any question you may have, inform you of proper skin care maintenance at home, and much much more.